Caterpillars: 2-3yr olds
Caterpillars is our 2-3 year olds room, where each day the children enjoy learning through play, while still having their emotional needs met by the very caring and attentive staff.
The children's daily routine will include:
Role Play
Messy Play
Sensory Play
Music & Dance
Stories
Circle time
Songs
Games and Out Door Play
At this stage, children will begin to explore making new relationships and start to develop their independence.
The Seahorse team are always available to talk with parents, about their child's needs, and are happy to offer advice and support where it is needed.
Every half term we have an educational theme such as Animals, Under the Sea and Our Senses.
In Seahorses the planned activities are focussed around the three core areas of learning:
Personal, Social and Emotional Development.
Communication & Language.
Physical Development.
Although all the areas of learning are integrated into the daily routine.
Throughout your child's time in this room, their achievements will be recorded in their learning journey, this will continue into the preschool room.
---
Caterpillars Team
Kelly Nash - Room Leader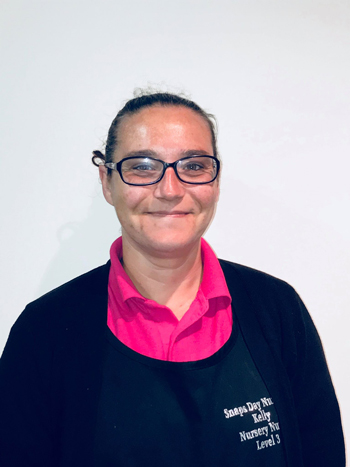 Kelly is the Room Leader in Seahorses. Kelly came to Snaps in 2015 as a Level 2 Nursery Assistant. She has recently gained a Level 3 Early Years Educator Diploma and is our Lead SEN. Kelly also holds qualifications in Paediatric First Aid, EpiPen Training, Fire Marshall, Observation and Planning and Safeguarding.
Stacey Turner - Nursery Nurse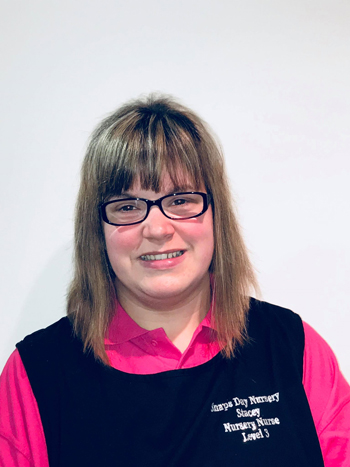 Stacey has been a long-term member of the team since coming to Snaps on an apprenticeship, she briefly had a change of career but returned to us in 2015. Stacey has an NVQ Level 3 in Childcare and also holds qualifications in Paediatric First Aid, EpiPen Training, Fire Marshall, Senco, Safeguarding, Behaviour, Anaphylaxis and English as an Additional Language.
Beau - Apprentice Nursery Assistant (alternating between rooms)
Dylan - Apprentice Nursery Assistant (alternating between rooms)